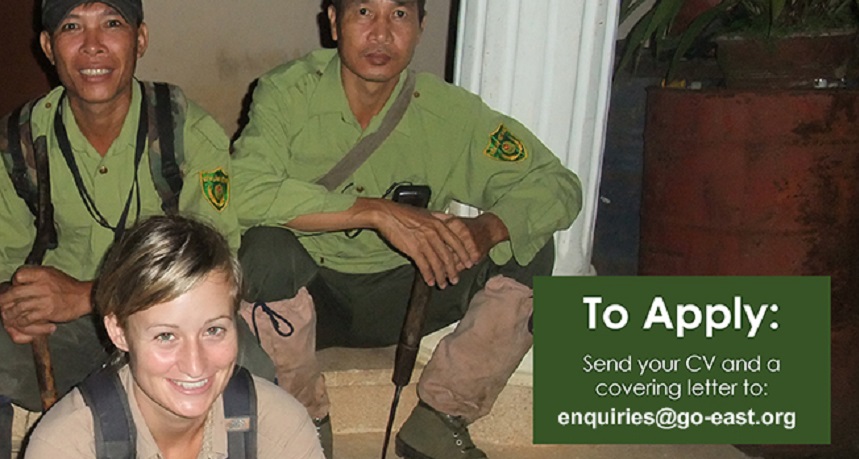 Research/Volunteering in Vietnam
We offer a limited number of volunteering opportunities each year for people wishing to further their experience in primate conservation.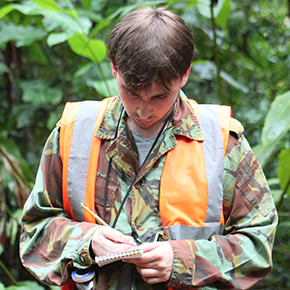 We also offer opportunities for research (under university supervision) which cover:
primate captive care
rehabilitation
monitoring after release
assessing and regenerating forest habitats
education awareness
the illegal trade
The centre has over 30 endangered primates at different stages of rehabilitation and post-release monitoring.
Data and experiences are shared with comparable projects and we hope our findings contribute to improvements in reintroduction practices and education awareness.
Through knowledge gained, we aim to increase the capacity of Vietnamese people in our project.
Research undertaken at Dao Tien 
2010 Emmanuel Amiral (Bournemouth University UK). To establish the effect of social grouping of juvenile gibbons for successful rehabilitation.
2012 Lauren Clarke (Oxford Brooks UK).  Behavioural monitoring of southern yellow-cheeked gibbons (Nomascus gabriellae) in two stages of rehabilitation at Dao Tien Endangered Primate Species Centre, Vietnam.
2012 Amber Dyson (Oxford Brooks UK). Can biodiversity loss in Vietnam be attributed to the demand for wildlife and wildlife products? A case study from Cat Tien National Park
2014 Lindsay Duncan (Roehampton UK). The Significance of close calls in Golden-cheeked gibbons (Nomascus gabriellae).
2014 Emily Dixon (Oxford Brooks UK). Is Community Based Conservation a Key Tool for the Conservation of Pygmy Loris in Cat Tien National Park, Vietnam – A Case Study
2015 Timothy Trent (Plymouth UK). Relating rehabilitated and re-introduced golden-cheeked gibbon behaviour with landscape characteristics in order to try and enhance success of the species survival in the wild.
2015 Jamie Dolling (Nottingham Trent UK). Developing guidelines for the insitu rehabilitation of Golden-cheeked gibbons (Nomascus spp.): A case study at the Dao Tien Endangered Primate Species Centre in Cat Tien National Park, Vietnam.
2015 Nicola Anderson (Roehampton UK)
2015 Hope Maxwell (Plymouth UK). The effect of automated feeders on the behaviour of gabriellae gibbons (Nomascus gabriellae) in Dao Tien rehabilitation centre, Vietnam.
2015 Hanne Sveaas (Plymouth UK). General activity budgets and factors affecting behaviours in captive pygmy lorises (Nycticebus pygmaeus) at Dao Tien Rescue Centre, Vietnam
2015 Priya Bajpai (Oxford Brooks UK). Behavioral changes in captive golden-cheeked gibbons (Nomascus gabriellae) in response to reduced human contact and unpredictable feeding times.
2016 Andrew Clennell (Nottingham University UK). Investigating the Effects Enclosure Structure and Feeding method on the Enclosure use and Assessing the Behaviour for Release of Southern Golden-cheeked gibbons (Nomascus gabriellae) at the Dao Tien Endangered Primate Species Centre.
2016 Claire Cardinal (Oxford Brooks UK). Whoop Troop: Creating a conservation education resource that integrates science and puppetry to inspire young people to value threatened wildlife.
2019 Hannah Flood (University of Plymouth UK ).  Social grouping and housing condition variable effects on rescued Nycticebus pygmaeus housed in a rescue centre.
2020 Luana Freeman (University of Roehampton UK). Captive care and welfare assessment of pygmy lorises (Nycticebus pygmaeus)
Points to note before applying
Our project is small and we cannot guarantee placements; we will prioritise researchers or volunteers offering a skill base needed by the project.
 You may be the only volunteer for the period you are accepted for.
Dao Tien is a rehabilitation centre and most of the primates in our care are on track to be released back into the wild when they are ready.  Because of this, we limit the number of people who work with the primates.  To be considered for work in primate care you must volunteer for a minimum of three months.
There is no DIRECT contact with any of the primates in the rehabilitation centre.
Work is varied and you may be required to help out with various aspects of the centre's work. This could include, for example, working with the post-release monitoring team in the forest; helping with the conservation education programme in local schools/ communities; or educational tours of the centre.
Researchers, too, when possible, will be asked to help in other areas of the project.
 Daily fees for food and accommodation are charged –-to cover costs and help support project activities.
How to apply
We look forward to hearing from you.