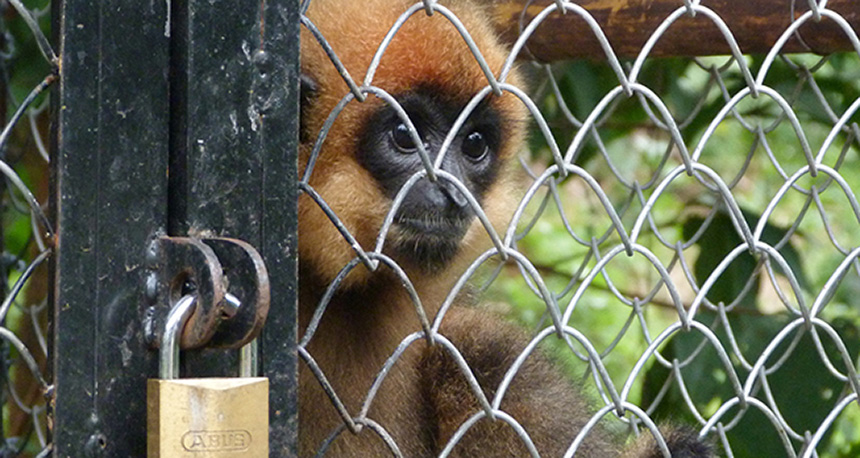 Dao Tien Endangered Primate Species Centre
Rescuing endangered primates and helping them to return to the wild.
We want to combat the threat of the illegal wildlife trade to Vietnam's endangered primates.
Black market trading in wildlife is a multi-billion dollar illegal industry. They are eaten, used in traditional medicines, kept as pets, and used as tourist attractions. We have also rescued many gibbons who were given as ceremonial gifts. Despite tough laws in Vietnam, primates continue to be illegally hunted and sold. This is what we want to stop.
The Dao Tien rescue centre
Dao Tien is a purpose built primate rescue centre located on a 56 ha island on the edge of Cat Tien National Park, in South Vietnam. The centre was founded in 2008 by Cat Tien National Park and Monkey World Ape-Rescue UK, in collaboration with the Vietnamese Ministry of Agriculture and Rural Development.
The centre consists of a quarantine area, veterinary room and staff house. In the core area, quarantine/socialisation cages enable close monitoring of primates through quarantine and socialisation.
Nearly 30 hectares of the island's forests are now enclosed in semi-forested enclosures, providing areas for tree training in preparation for full release.
Many of the rescued primates arrive at Dao Tien malnourished and in a state of social deprivation after spending, in the case of some gibbons, up to 20 years in social isolation.  Luckily the desire for most social primates to be with their own kind is strong. Our team on Dao Tien are constantly astounded by their resilience and mental strength. Within days of being near others they are often ready to build friendships.
Infant gibbons direct from the forest can come with serious problems such as broken bones or gun-shot wounds and have to be cared for by our specialist infant care team to get them to health.   Phoung, who leads our infant care team, has successfully hand-reared black shanked douc and pygmy loris.
After health checks and non-invasive DNA sampling, rescued primates are socialised with their own kind, and then finally move on to tree training in a semi-forested enclosure.  Successful candidates are radio collared and released into continuous forest when ready.
Sadly some individuals can never be returned to the forest, for example if a gibbon has contracted the Herpes Simplex virus (cold sore virus) from a human or if a pygmy loris has had its teeth removed (thus unable to feed naturally in the wild) they must remain in captive care.
We share experiences and data with comparable projects. It is vital that we can all work together to contribute to improvements in reintroduction practices.