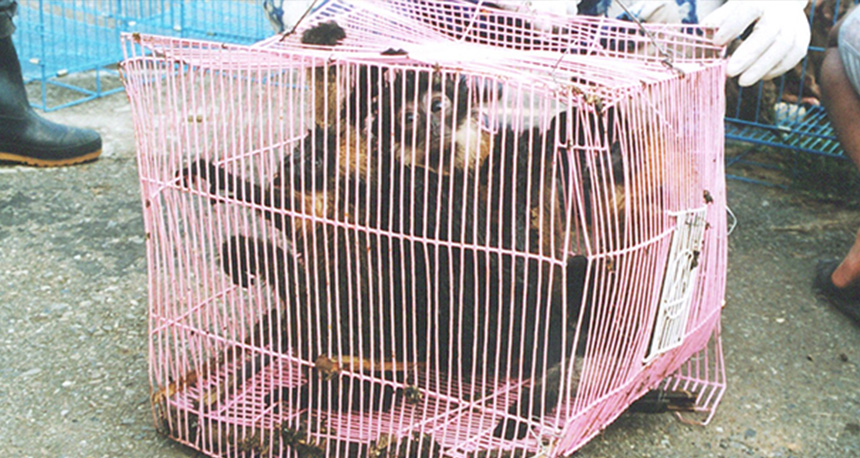 Our Journey So Far
It all began with Peanut.
She is a golden-cheeked gibbon stolen from Vietnam and sold to a British bird smuggler. Peanut was rescued by Monkey World Ape Rescue Centre in 2000.
A year later, another golden-cheeked gibbon, Pung-Yo, joined her.  Smuggled from Vietnam, he had been rescued by the Pingtung rescue centre in Taiwan, before being transferred to Monkey World (pictured above).
Little then was known about the species, native only to southern Vietnam and east Cambodia, but their rescues prompted Monkey World (spearheaded by its founder the late Jim Cronin and his wife Dr Alison Cronin) and Pingtung (led by Professor Kurtis Pei) to launch investigations into the illegal trade.
And the charity EAST was born.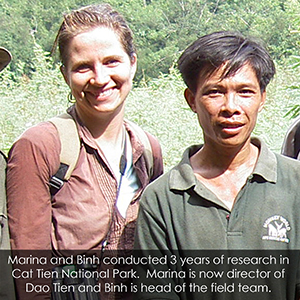 Meanwhile, Dr Marina Kenyon (pictured right), now Dao Tien's director, carried out research into golden-cheeked gibbon in the wild.
To support Vietnam's government in protecting their primates, work began to create a centre to look after confiscated animals and offer facilities rehabilitate them, where possible, for release into the wild.
In 2008 Dao Tien Endangered Primate Centre opened, in partnership with Cat Tien National Park and Vietnam's Ministry of Agriculture and Rural Development.
It specialises in four endangered species found in the region. These are black-shanked doucs, silvered langurs, golden-cheeked gibbons and pygmy lorises.
Our Progress
These are just a few highlights of what has been achieved so far:
Since 2008, Dao Tien has built 5 semi-forested enclosures for primate rehabilitation, and have just completed a brand new loris complex.
This year alone we have built two more large semi-forested areas to bring us closer to our aim of enabling all young gibbons to grow up in trees.
We have built an education area on site, and have conducted education awareness sessions to over 5,000 students on site and at their schools.
We have planted over 500 new trees on Dao Tien.
We have provided scholarships for Vietnamese students, as well as opportunities for University students to gain field experience and conduct field research. We also organised a symposium to share and discuss experiences with other projects.
To date, Dao Tien has rescued and cared for more than 50 primates, and released 25.
Our Releases
Since 2009 Dao Tien has released and monitored the progress of many primates. These are just a few examples:
That first year we released and monitored two pygmy lorises, Mistletoe and Thang. We have released 15 pygmy loris over the past 5 years, starting with Mistletoe & Thang in 2009.
We have released 4 black-shanked doucs back to the wild, who went on to form one family group and now have 2 more infants – born in the wild.
Two families and one pair of golden-cheeked gibbons have been released into continuous forest. Using GSM VHF radio collars, our tracking team, led by forest ranger Vo Thanh Binh, followed their progress post-release.