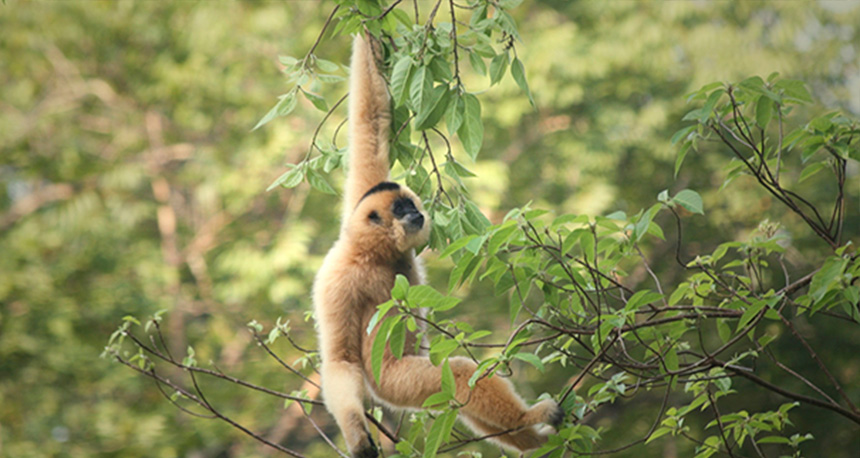 Visit Us in Cat Tien National Park
A unique chance to see our primate reintroduction work first hand.
This tour is the perfect way to see how we are working to rehabilitate rescued primates, ready for release back into the wild.
Dao Tien Endangered Primate Species Centre will be closed to the public  from 1st July to 1st October 2019, while our team focus on our primary mission of gibbon rehabilitation and release.
We apologise for any disappointment- please get in touch to arrange tours for after 1st October 2019.
Highlights of the tour
Boat ride to Dao Tien island (if you're really lucky you may even see some of our released black-shanked douc that live nearby!)
Watch gibbons swinging in the trees and practicing their skills, from our purpose built viewing platform.
See primates in the rehabilitation centre, and learn about how we prepare rescued primates for release.
Visit our Tree Nursery and find out more about our how we are creating a forest fit for gibbons.
All money generated from this tour goes back to Dao Tien, thus providing a sustainable way to fund our primate conservation work
School Visits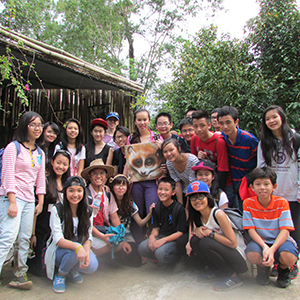 We are delighted to welcome school groups to our centre, and can include a presentation (about our work and the conservation of primates) to school groups at no extra cost. Please note that this MUST be booked in advance directly with Dao Tien well in advance of your visit.
Please contact us on daotien@go-east.org to discuss your groups' requirements.
Please note:
For the welfare of our primates, tours to Dao Tien are limited to 30 per session (=60 per day across one morning and one afternoon session). For educational groups one free adult is allowed per 10 children. Any additional adults must pay full price.
How to Get Here
Cat Tien National Park (and Dao Tien) is halfway between Ho Chi Minh City and Da Lat in southern Vietnam. Accommodation and loads of forest treks & tours are available within the National Park, and we would recommend spending at least 2 – 3 days here to see the park's main highlights.
By Public Bus

From Ho Chi Minh City or Da Lat:
Local buses run from Mien Dong Bus Station in HCMC direct to Nam Cat Tien village.
Futa Phuong Trang bus company also run between HCMC (De Tham Street, District 1) & Da Lat (Long Distance Bus Station). Embark halfway at Tan Phu Post Office. Local motorbike drivers will take you the remaining 24km to the park entrance (you should expect to pay around 150,000 VND per bike – although they may ask for more – don't be afraid to haggle!). Cat Tien can arrange a taxi for you to pick up from Tan Phu if you would prefer (please book in advance – contact details below).
By Private Car
Private cars and share-taxis can be arranged by Cat Tien Tourism Department to pick up in HCMC or Da Lat and bring you directly to Cat Tien National Park.
Contact Cat Tien National Park Tourism Department to arrange a share-taxi or private car:
+84 (0) 613669228 / namcattien@yahoo.com.vn