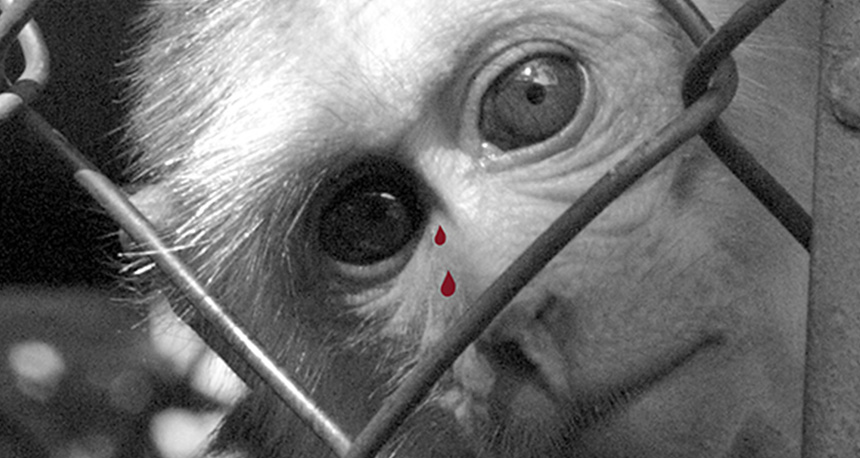 Supporting Responsible Tourism
All too often primates are illegally exploited for tourism because people pay to see or eat them.  Most people are unaware that their actions – such as taking a simple photograph – drive this cruel trade.
If no money is made – for example if you do not buy your cola at that shop – the trade will stop.
Visiting Asia, macaques are the primates most likely to be seen neglected in a small cage or chained to a post at a tourist resort.
These intelligent primates are hunted illegally for tourism, not just to be kept as 'pets' but as meat and for their bones to be boiled down for traditional medicines.
The culture of performing animals or photographer props, too, is still strong within Asia but attitudes evolve and we want to help support a more respectful culture towards these amazing wild animals.
Vietnam is a hotspot for diversity – a very special place with special wildlife that needs to stay wild.
Avoid the Bad
If a tour involves seeing animals kept illegally, or in poor conditions, or eating wild meat – please do NOT go.  Ask these questions before booking a tour.  The only reason these animals are there is because that is what some people think you want to see.
Where do these macaques come from?
This video, courtesy of VTV shows what happens to whole families of monkeys when they are hunted from the wild. The babies are usually sold into the pet and tourist trades and the adults sold for meat or research labs. Please note, this video contains some distressing footage.
Report Wildlife Crime
If you see a captive macaque while travelling in Vietnam – please help that individual get confiscated by the Vietnamese authorities:
Take a clear picture
Get the exact location
Report it via the Education for Nature – Vietnam (ENV) Hotline. Call the ENV toll-free hotline number – 1800 1522.
ENV was established in 2000 as Vietnam's first non-governmental organization focused on the conservation of nature and protection of the environment. ENV will contact the authorities.
This way each individual seen is 100 per cent out of the illegal trade, and the law is enforced.
Please download this poster and display, help more people to become aware of the suffering.
Support the Good
We want you to have the best wildlife experiences- without any exploitation.  Vietnam has so much special wildlife to be seen in its National Parks, Nature Reserves and Conservation Projects.
If you go on an amazing tour enjoying wild animals where they are meant to be, let us know and we will help promote those tours. Email daotien@go-east.org.
Suggested Eco-tourism in Vietnam
See amazing wildlife!
Ha Giang Tonkin snub-nosed monkey (Rhinopithecus avunculus) found in the frontier province of Ha Giang in northern Vietnam, and the critically endangered Cao Bang Cao Vit Gibbon (Nomascus nasutus).  No gibbons have been hunted since their discovery in 2002.
Tour info:  Expensive and tough so nothing for the masses but for an interested individual with money the opportunity to see the Tonkin Snubnoses or Black Gibbons is unique. Haivenue travel agency organizes proper ecotourism tours to Ha Giang or Cao Bang in cooperation with FFI (Flora and Fauna International) for individual tourists.  (Seven-day trip.)
Critically Endangered Cat Ba langur, listed by the World Conservation Union (IUCN) as one of the most critically endangered primate species of the world, due to its small population size and restricted range. Only 65 langurs currently survive in the wild whilst an additional two live in the Endangered Primate Rescue Centre at Cuc Phuong National Park.
Tour info: Tours to Cat Ba with an opportunity to see the Cat Ba langurs can be organized with Footprint travel, Intrepid Tours, Handspan travel and Haivenue travel. Individual travellers risk being ripped off so using a tour operator is the best option. (Two- day trip.)
Hatinh Langurs in Van Long combined with Cuc Phuong National Park and the Endangered Primate Rescue Centre.
Tour info: This can be organized individually as the National Park can organize the tour to Van Long. (Three-day trip) Email: info@cucphuongnationalpark.com
Hatinh langur, francois langur and white-cheeked gibbon and three species of macaque in Phoung Nha Ke Bang National Park.
Tour info: Tours to see the langurs are organized by UK-based tourism company Oxalis tours in Phong Nha town.
Bird watching in Bach Ma National Park. Spectacular landscapes and amazing forest.
Tour info: All well organized at the National Park.
Golden-cheeked gibbon, black-shanked douc and three species of macaque in Cat Tien National Park, combined with the Dao Tien Endangered Primate Species Centre.
Tour info: Cat Tien, protected now for over 40 years, consists of beautiful forest with well-established trails. Email: namcattien@yahoo.com.vn