ALL PROFITS DONATED TO EAST
'I Say Save Orang-utans'
Donated by James Broughton, with a video featuring the primates from Monkey World at https://itun.es/gb/aW-S5. Available for pre-order now!
Monkey World – Ape Rescue Centre is excited to announce the release of its first ever charity music video, after more than ten years in the making!, an exclusive music video featuring over 50 beautiful primates from the rescue centre in Dorset!
Thanks to the support from Believe Digital "I Say, Save Orang-utans" by James Broughton, will be officially released on 17 March with hopes for a position in the music charts!
Singer-songwriter James Broughton was first introduced to the late founder of Monkey World, Jim Cronin, by radio presenter Graham Mack. From that meeting, over ten years ago, James was pleased to donate the song to Monkey World for charity fundraising.
Primate Planet Productions Ltd, producers of TV documentary "Monkey Life" which follows the work of Monkey World, donated their time and incredible footage to create a music video for the song. Filled with primates from the park over the years, it is a wonderful tribute to both Monkey World and its founder, Jim, particularly as the release date is set for the 8-year anniversary of his passing on Tuesday 17th  March.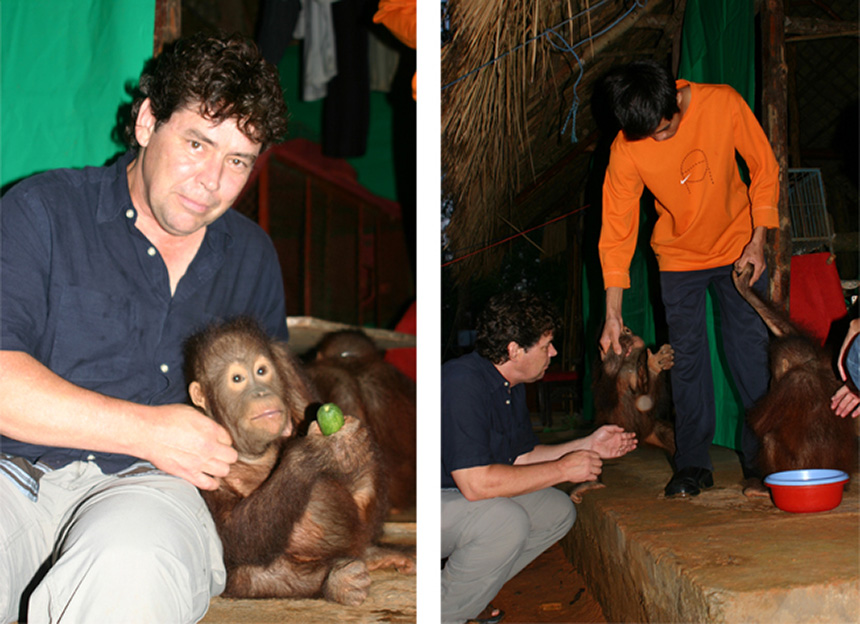 "All profits from any downloads on iTunes will be donated to the charity EAST, set up by Jim", says James, "and it's a great cause to support on such a poignant day."
Jim's wife and Monkey World Director, Dr Alison Cronin, is also excited that the charity video's release has been confirmed:
"It has been a long time coming," says Alison. "It's finally done and the music video is going to be released and raising money for the Endangered Asian Species Trust – 'E.A.S.T.' – which supports our work in Vietnam and other work in South East Asia. So we thought it appropriate for the orang-utan theme to be benefitting that work in Asia where orang-utans originate."

MUSIC VIDEO DOWNLOAD:
Download this charity fundraising music video "I Say, Save Orang-utans", featuring over 50 primates from Monkey World at: https://itunes.apple.com/gb/music-video/i-say-save-orang-utans/id968092675
Watch the preview clip of the video