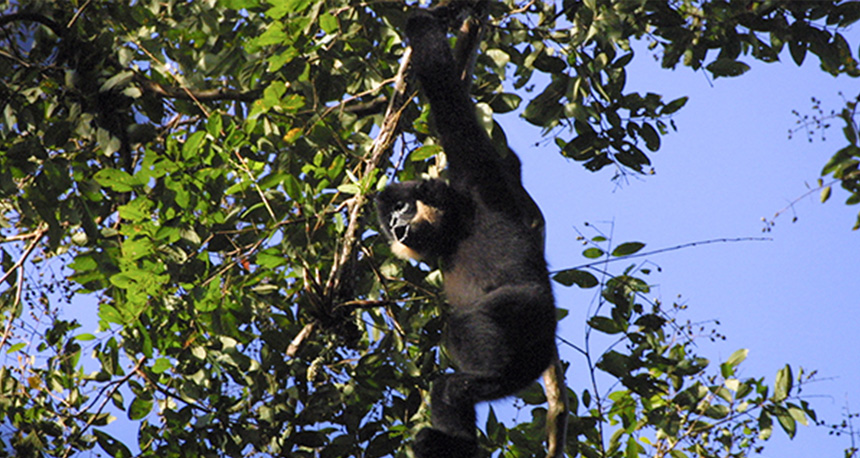 Wild Gibbon Trek in Cat Tien National Park
This unique trek offers you the rare opportunity to see
southern Vietnam's only ape in the wild.
Set off before the sun rises in search of habituated wild golden-cheeked gibbons. Led by experienced guides, this trek takes you off the tourist trails & gives you the chance to see these endangered primates in their natural habitat.
Followed by a visit to Dao Tien Endangered Primate Species Centre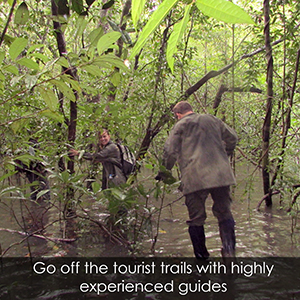 The Trek
Set off at before sunrise with a Cat Tien guide and trek into the jungle.
First you will be taken to a listening post, to wait for the gibbons to start singing. This is the best way for the to locate the gibbons – who sleep in different locations throughout their large home range.
Here you can relax and take in the vast array of wildlife that surrounds you. As the nocturnal animals are all going to bed and the day-dwellers are rising, this is the perfect time of day for you to take advantage of Cat Tien's rich wildlife viewing opportunities. If you are quiet and patient enough, potential sightings can include sambar deer, mouse deer, wild boar, black-shanked douc and pigtailed macaque troops, as well as a huge array of birds and invertebrates.
Once the gibbons start to sing, you will be guided to their location. Because they are habituated groups they are comfortable with you watching their normal day-to-day activities.
The length of the viewing is dependent on the gibbons, but whether this experience is for a few minutes or for many hours, it is a rare and magical sight that will leave you completely in awe of this beautiful family.
This is truly a once in a lifetime, wildlife experience.
The Gibbons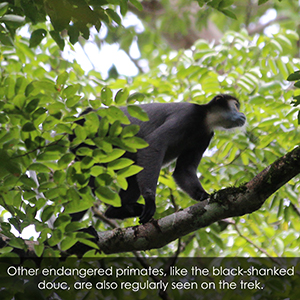 There are two possible families of wild golden-cheeked gibbons (Nomascus gabriellae) you could meet on this tour, the "Hao" family; consisting of Hao (male) his female and younger offspring, and "Hat" family: male (oldest son of Hao) and his newly found mate. Most mornings both groups sing beautiful duets.
These gibbons were first monitored by forest rangers in 2004 (when Hat was still living with his parents), working with EAST vice-director, Dr Marina Kenyon, studying golden-cheeked gibbon ecology. Living close to National Park Headquarters, they provide the potential for Cat Tien to increase primate conservation awareness nationally and internationally.
Regulations & Considerations
Please read before booking
To ensure you have the best chance of seeing wildlife, without compromising their welfare or your safety:
Tours are limited to 4 people per day. Please book in advance as this is an incredibly popular tour.
Please take plenty of water in to the forest with you(min. 2ltrs).
No food can be eaten in the forest. Please eat before you go as this trek can last up to four hours.
Please wear dark forest-colour clothes, thick trousers & good walking shoes. Forest shirts & leech socks will be provided.
There is no smoking in the forest.
Direct interaction with the gibbons is completely forbidden.
A moderate fitness level is required for all participants of the Wild Gibbon Tour as it involves forest trekking at a relatively fast pace, possibly travelling over uneven terrain, rattan and slippery rocks. Cat Tien has the right to refuse participation for anyone whom they deem unsuitable, unprepared or obviously unwell.
The minimum age for those taking part in this tour is 12 years old, and anyone under 16 must be accompanied by an adult who must take full responsibility for their safety.
How to Book
Book with Cat Tien Tourism Office: cattienvietnam@gmail.com / +84 (0) 613669228/  +84 (0) 856 669 228 (Zalo)
All proceeds go back into Cat Tien National Park's conservation work, and provide a sustainable to generate funds and strengthen protection activities for the future. Please do not book this tour through any third party organisation. Cat Tien cannot honour these bookings, and we cannot guarantee that your money will go towards conservation.
For more information contact us: enquiries@go-east.org.